Reinsurance / Insurance
Reinsurance / Insurance
Reinsurance is the "insurance of insurance." It is a mechanism in which risks insured by an insurance company are insured, in full or in part, under a policy issued by another insurance company.
For our corporate customers, we propose optimized insurance solutions from the perspective of integrated risk management.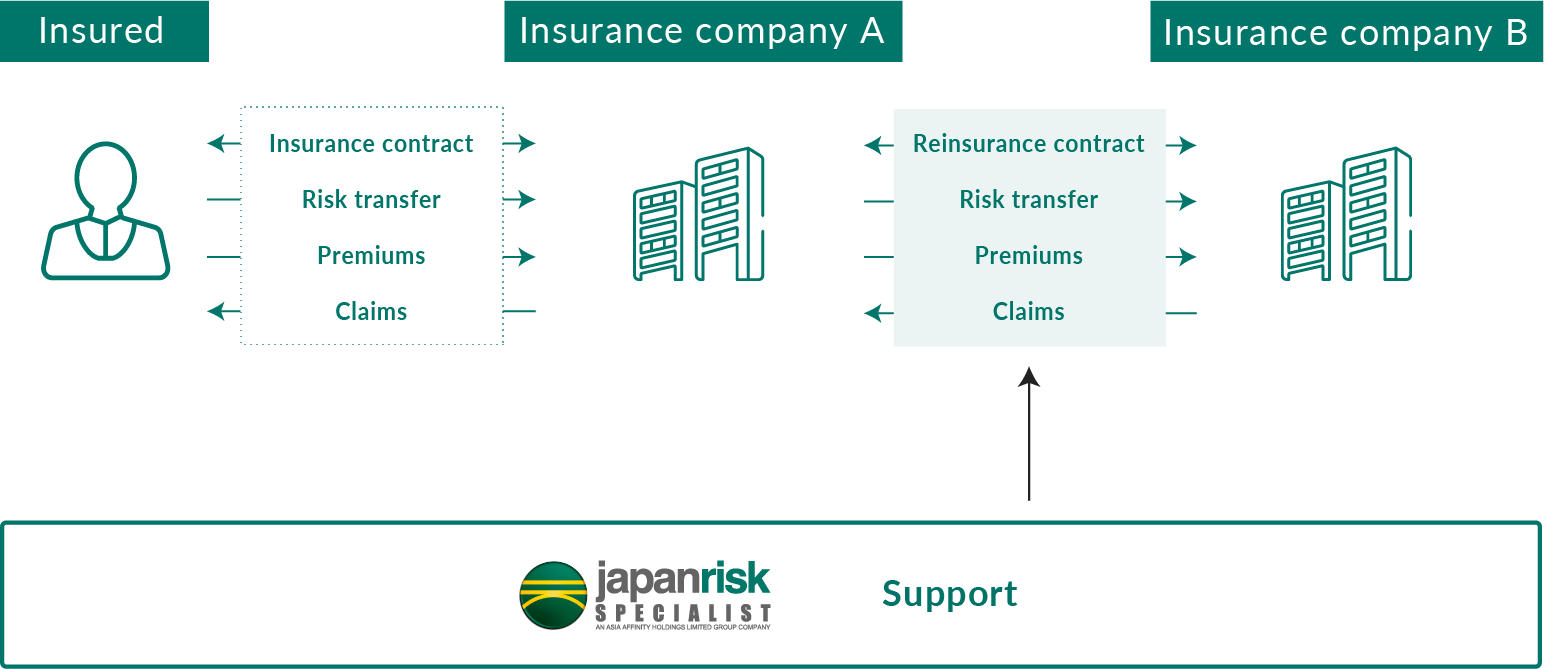 Our services for
reinsurance and insurance are
targeted at the following customers
Businesses that wants to reduce
insurance premiums

A company is reviewing its earthquake insurance policy with the intention of reducing insurance premiums.

Businesses that cannot afford to take out
insurance because insurance premiums
are too expensive

A company wants to procure earthquake insurance but cannot do so because of the high costs of premium payments.

Enterprises planning to use insurance
as a marketing tool

A company wants to offer extended warranties or similar additional services, together with some products or services they want to sell, with the intention of utilizing such warranty services as a marketing tool.

Enterprises that want to hedge
cybersecurity risks

A company wants to properly hedge the risk of liability and cyber risk in IT-related business with insurance.
Services for Reinsurance and Insurance Services
When taking out insurance, checking existing insurance coverages, or searching for insurance products for particular risks, we ask for our customers' thoughts to properly understand, analyze and assess the risks they face. Based on our assessment, we then propose a risk distribution strategy, marketing ideas, or other solutions optimized for the particular business.
There are cases when it is more advisable to retain potential risks, rather than taking out insurance. Our services are intended to achieve integrated risk management, either with or without insurance solutions.
Bespoke Services
Close examination of coverages under existing insurance contracts

Our reinsurance or insurance specialists will scrutinize your existing insurance contracts and analyze insurance payment by the actuarial cost method.

Assessment of a company's risk management framework

Our services are not only limited to insurance. We work heavily on understanding your risks in an integrated manner. This gives us a wide variety of solutions to offer such as our information systems or the use of captive insurance.

Choosing insurance products offered by domestic and foreign insurers worldwide

Our strength of having a local and global network allows us to introduce a wide array of insurance products or plans that can help any business choose the right match for their needs.

Proposing risk distribution or transfer strategies using insurance and reinsurance

Our proposals for risk distribution or transfer are backed by our expertise in reinsurance and insurance and global network.

Contract administration and settlement with foreign reinsurers

After the signing of reinsurance contracts, our reinsurance and insurance specialists will undertake contract administration, payment, and settlement operations with foreign reinsurers.
Insurance products advisory
Business risk insurance

We can offer insurance products tailored to each business. This includes, compensation in connection with the customer's property or construction projects, compensation for absence from work, liabilities to related parties or third parties, and compensation for industrial accidents.

Commercial Earthquake insurance

Commercial earthquake or fire insurance covers loss or damage to buildings, factories, offices, facilities, equipment, and other property owned by the enterprise that may be caused by fire, explosion or blowout resulting from earthquake or volcanic eruption, or caused by damage, burial on land, or washout resulting from tsunami, flood, or other water disasters.

Cybersecurity insurance and general liability insurance for IT-related risks

Cyber attacks targeting enterprises have been increasing in recent years. Cybersecurity insurance covers loss or damage caused by cyber attacks, costs for investigations, liabilities to related parties or third parties, lost profits, business interruption risks, and other risks that are not covered by ordinary property insurance.

Extended warranties (product warranty can be insured and provided as an extended warranty)

Extended warranty insurance covers your liability for defects or failures in products for a certain period of time after the manufacturer's warranties expire.

Trade credit insurance

This insurance is to pay insurance proceeds to cover damages when your receivables from a business partner become uncollectible because of its bankruptcy or for any other reason.

Directors and officers liability insurance (D&O insurance)

D&O insurance covers economic loss suffered by an enterprise when any of its directors or officers is held liable to pay damages in connection with their execution of duties.

Other customizeable insurances

We can arrange a wide variety of insurances offered by domestic or foreign insurers to be customized for a business' specific risk.