Small Amount and
Short Term Insurance
Setting-up a Small Amount and Short-Term
Insurance (SASTI) company
Unlike conventional insurance companies, SASTI companies are subject to restrictions in respect of insurance periods, amounts of insurance proceeds, and other coverage conditions.
We offer complete support to set up and operate small amount and short-term insurance (SASTI) companies as a profitable business model. Our support services include consultation, support on formation, and reinsurance arrangement.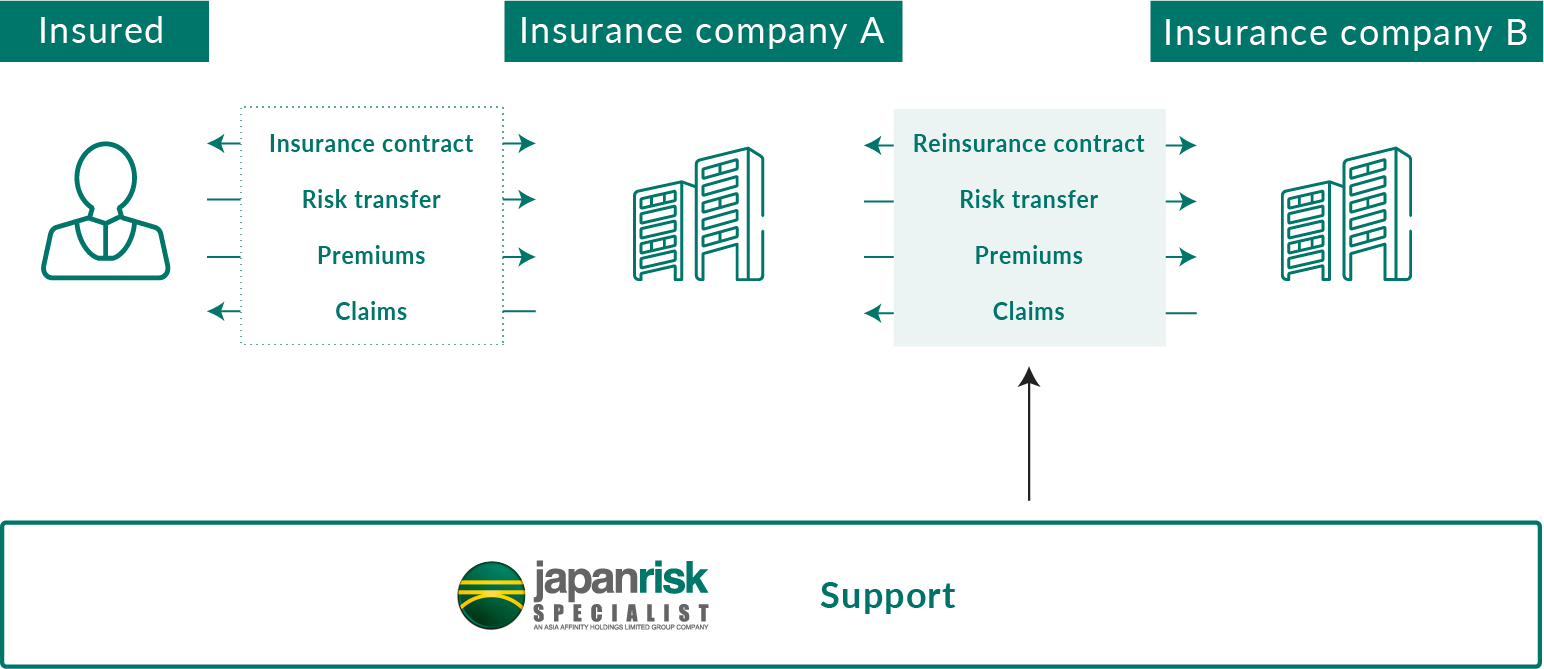 Our services for SASTI are targeted
at the following customers
Businesses engaged in
lease administration

A lease administration company considers operating its own insurance firm to sell its own insurance products to lease customers.

Businesses operating
pet-related business

A pet business operator has a
well-established client base and considers selling insurance products in addition to existing services.

Healthcare operating businesses

An enterprise has healthcare expertise and know-how and considers designing and selling its unique insurance products based on specialized skills.
Comparison of regulations
  
SASTI
Insurance company
Insured period
Maximum of 1 year(Maximum of 2 years for Non-life)
No limitation

Insured amount
【Death/Severe disability by illness】MaximumJPY3,000,000
【Hospitalization benefits by illness/injury】Maximum JPY 800,000
【Specified Severe Disability Insurance/Death by injury】Maximum JPY 6,000,000
【Non-life Insurance】Maximum JPY 10,000,000

No limitation
Annual premium income
Maximum JPY 5,000,000,000
No limitation
Minimum Capital Requirement
JPY 10,000,000
JPY 1,000,000,000
Entry regulation
Registration at Finance Bureau
Licensed by the
Commissioner of FSA
Combined Life and Non-life
Possible
Not allowed
※ Special arrangements due to transitional period measures are not considered.
※ Other limitations exists such as a maximum of JPY 1 billion per contract sum insured.
Services for SASTI Set-up
Our full-range services include advice on legislation, administrative registration, business planning, product development and reinsurance arrangement.
After the launch of your insurance business, we can provide advisory services on an ongoing basis if requested.
Bespoke Services
Applications and approvals for the establishment of a SASTI company

The process to seek approval is important for the formation of a SASTI company. In general, an application for approval of insurance products is filed at the same time, which affects a decision on when to set up a SASTI.
We will provide support in preparing the necessary documents that can fully explain the points at issue and discuss with the finance bureau's officials in charge.

Product development in
collaboration with actuaries

We can design products that fit your intended client base and meet your needs. At the same time, we can formulate a business plan and prepare operation procedures, product summary, policy conditions, and a statement of calculation procedures for insurance premiums (to be drafted by actuaries).

Introducing operation systems for
insurance business

We can introduce a vendor that can offer a standard package of operating systems containing all basic functions, a semi-custom package or a full-custom system according to your budget and needs.

Reinsurance arrangement

Most SASTI companies utilize reinsurance to ensure stable operation and as a credit enhancement instrument.

We can support our customers' reinsurance arrangements with the advantage of our strength backed by our global networks.

Contract administration and
settlement with reinsurers

Since insurers must work with reinsurers on a regular basis for contract administration, payment, and settlement operations, we can assist customers to facilitate such operations. If you ask us to arrange reinsurance, we will perform the needed administrative work, with experienced reinsurers doing it on your behalf.
How it works
Preparation for license application

- Creating a business plan
- Selecting products and preparing for formation
- Selecting insurance specialists

Application Process

Creating statutory documents* and starting negotiation with the finance bureau
*Application for approval of products, preliminary license application, application for approval of concurrent assignment, notification of major shareholders, business plan, operation procedures, summary of insurance premium calculation, policy conditions, product summary, license application, and so on

From registration to launch

Preparing for the launch of products and creating operation tools after registration*
*Brochures, statement of important matters, contract document formats, operation manual, and the like
*Development of business management systems, interface with outsourcing partners

Implementation

- Reinsurance settlement
- Development of new insurance products
- Assistance in accounting and period-end settlement operations for insurance business