Captive
Our services for Captive are targeted
at the following customers
Enterprises engaged in lease administration

These enterprises have many assets that need to be insured, with relatively low probability of risk accumulation.

Consumer electronics retailers

By insuring extended warranties for home electronics to be offered to their own customers, merchandisers can enhance their financial efficiency.

Enterprises handling large volume of
client information

Things that can be covered by insurance are not limited to fixed assets alone. We can help develop a scheme to protect client information retained by enterprises.

Fast-growing enterprises with many
business establishments

This is an opportunity to centralize risk management and promote a review of compensation.
Setting up a Captive
Utilizing a captive is expected to enhance a business' financial efficiency and improve its insurance coverages. This will lead to opportunities for finding out business potentials beneficial for the enterprise's business operation.

We are committed to building an optimum scheme for each enterprise customer in liaison with a team of both domestic and foreign experts.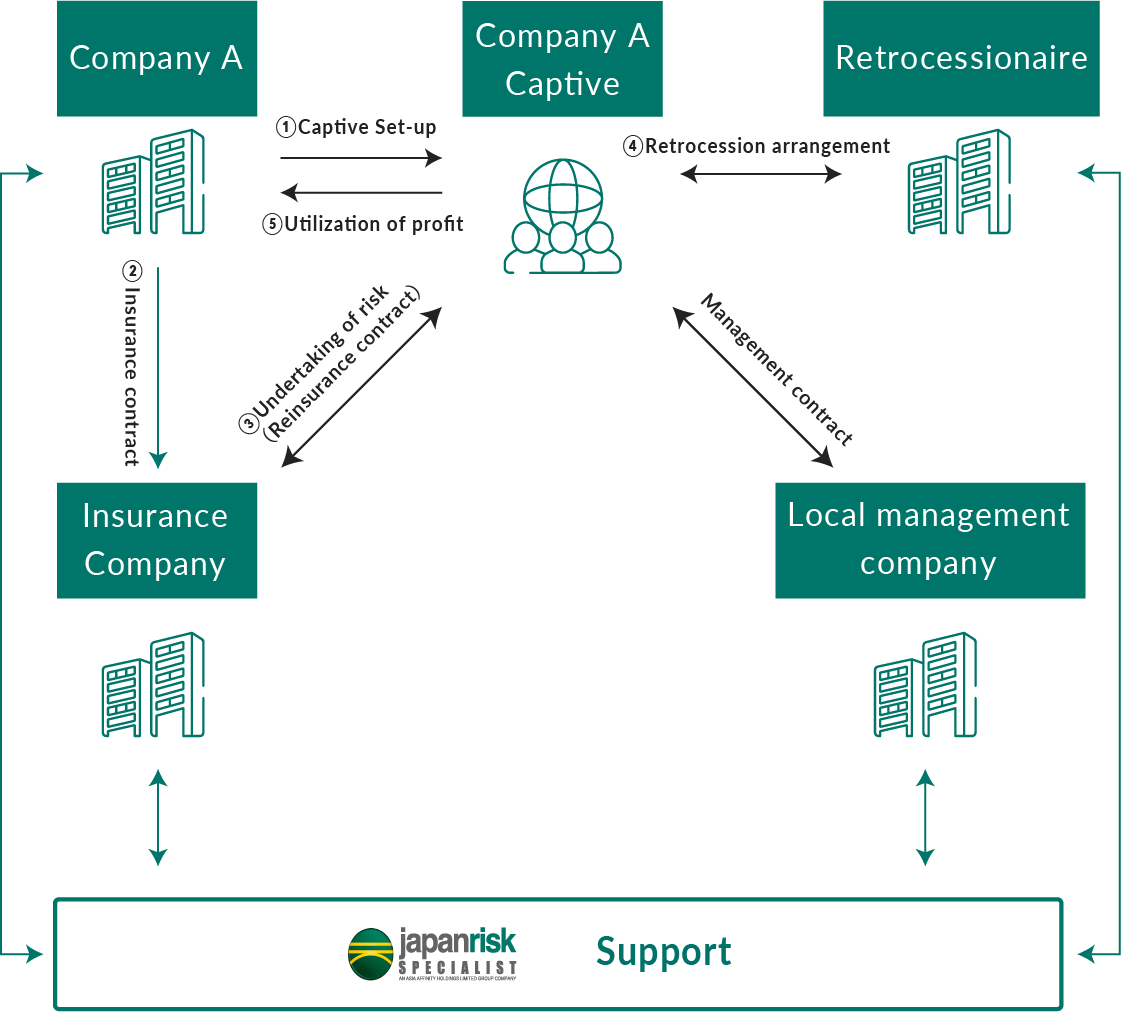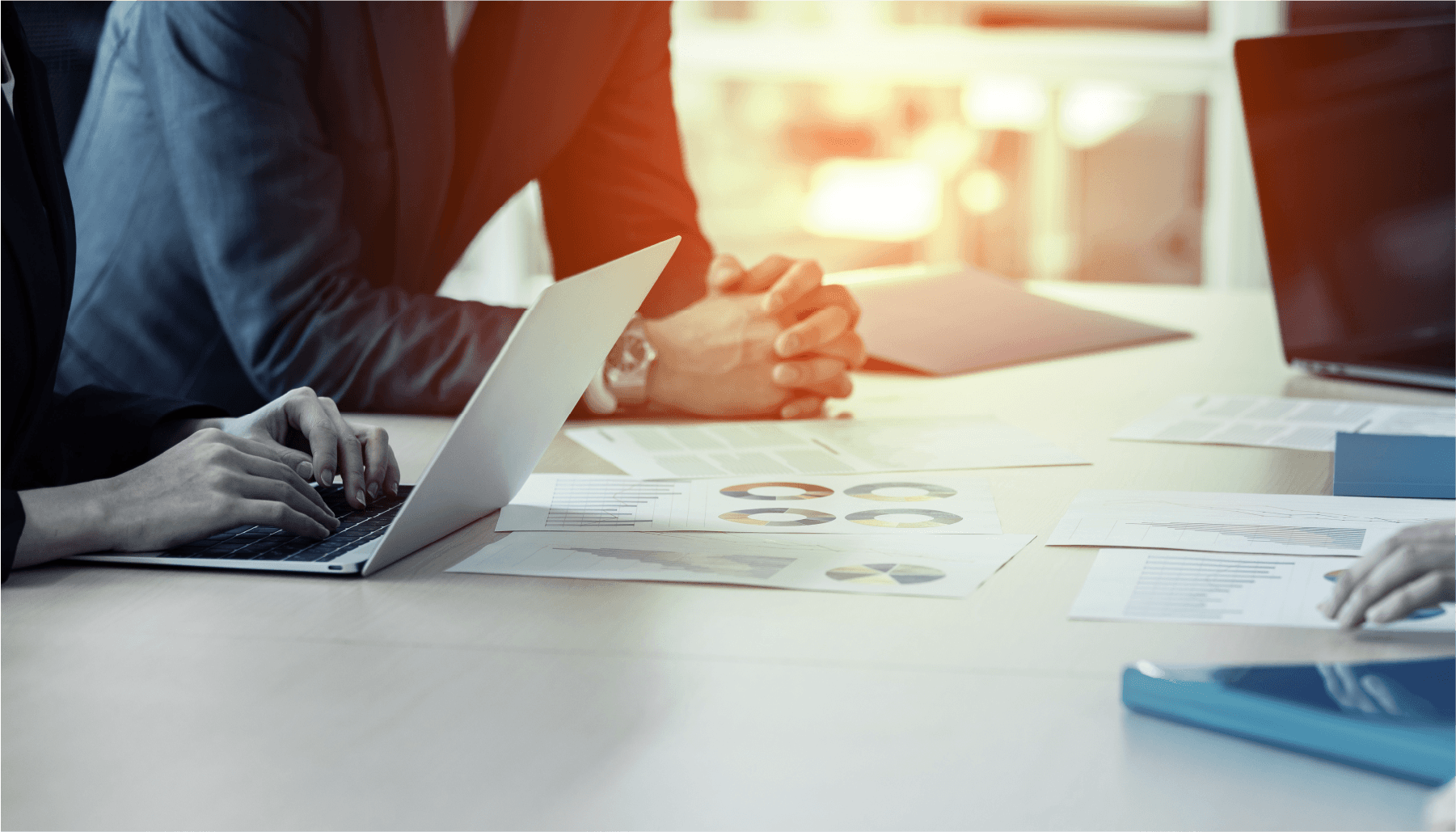 What is a PCC?
A Protected Cell Captive (PCC) is a captive with more enhanced versatility.
In the scheme of PCC, a facility called "cell," which has the same function as a pure captive, is rented to each enterprise. Unlike a pure captive set-up as an insurance company, the PCC scheme allows for renting a captive-like function to a company and this enables a drastic cut in initial costs, capital, and operation costs; which leads to higher profitability and reduced administration work. Since the assets and liabilities for each cell are legally segregated from other cells, profits, losses, assets, liabilities, rights, and obligations for each cell are managed independently.
Our Captive Strategies

Solutions through our own PCC

Japan Risk's PCC subsidiary, Green Oak, is located in Labuan, a special economic zone in Malaysia. It is composed of experienced staff who have a career in captive management firms and engage in contract administration and interactions with regulators in Malaysia.
In terms of administration costs, Labuan is more competitive than other domiciles, which contributes to the higher profitability of our current enterprise customers.
  
Captive
PCC
Definition
A company set-up to compensate the risks of the parent and related companies.
Individual cells owned by independent owners that compensate risks around a central core
Corporate structure
Composed of multiple legally independent "cells" around a "core". Each captive owner will own a cell through a management contract with the "core".
Time necessary to setup
3~6 months
1~3 months
Capital requirement
Necessary
Amount will depend on the captive domicile
Not necessary
Since a cell is not a corporation, there is no minimum capital requirement.
Bank account
Bank account in the domiciled country is needed
Can utilize the PCC customer bank account and set-up an individual account for the cell. No need for a new bank account.
Minimum operational conditions
Internal audit
External audit
Quarterly reporting to supervisory bureau
Tax reporting
Annual meetings
Additional reporting regarding money laundering
Other reporting and administration required
The core will be responsible for the management and administration of the cell based on the Cell Management contract. No additional requirements necessary for the cell owner.
Green Oak Official Site
Bespoke Services
Captive Set-up

We offer explanations about information and documentation required for setting up a captive. Since submission of certified documents is needed in English, we can provide services for translation and certification by qualified professionals.

Examination of risks

While considering setting up a captive, we will check your existing insurance contracts. After reviewing insurance terms and conditions, we can verify whether a captive scheme fits with your risks or redefine your coverages. With this, it may be possible to reduce your insurance premiums.

Operational procedure support with the financial services jurisdiction of each country

Captives set-up will be supervised by the financial services regulator of the country or region in that jurisdiction. Just like conventional insurance companies, captives need to submit reports and other documents to the regulator. We can handle this regulatory procedure on your behalf.

Negotiation with domestic general insurance companies acting as primary insurer

In order to reinsure the contracted insurance contract as reinsurance, the insurance company examines their coverages. Then, we design and arrange a reinsurance contract in line with your requirements.

Reinsurance arrangement

To maintain a captive's good status, risks insured by a captive need to be transferred to another reinsurer; this arrangement is called retrocession. With our experience in reinsurance arrangements, we can negotiate to obtain better terms for reinsurance arrangements.

Contract administration and settlement with foreign insurers or reinsurers

Preparation of contract documents and payment and settlement operations are required when transacting with foreign insurers or reinsurers.
We can do administration work for our customers such as documentation, overseas remittances, confirmation, and other communication with foreign insurers or reinsurers.

Redesigning existing captives

If expected results from the existing captive are not achieved, we can examine the possibilities of changing to another domicile, to transfer portfolios, or to redesign your captive scheme.
Captive Domiciles

Importance of selecting a domicile

Captives can be set-up in the countries, states or territories that license it. Since Japan has no captive legislation, our customers need to set up offshore captives in venues where their formation is legally permitted. This venue is called domicile. Rules applicable to captives and expected costs for captives differ slightly from each domicile. When choosing the right domicile, time difference and some other factors should be considered.
Recommended domiciles
Labuan, Malaysia

Reason.1

Labuan requires less captive operation costs than other domiciles. Labuan enforces both well-established legal systems and regulatory supervision framework in a balanced manner.

Reason.2

Labuan is an offshore financial center in Asia, with just one-hour time difference from Japan with a favorable business environment.

Hawaii, US

Reason.1

Since Hawaii's tourism business relies mostly on travelers from Japan, various services in Hawaii are available in the Japanese language. Japanese speakers are less likely to face language barriers.

Reason.2

Easy access to the area with a sense of security as it's part of the United States.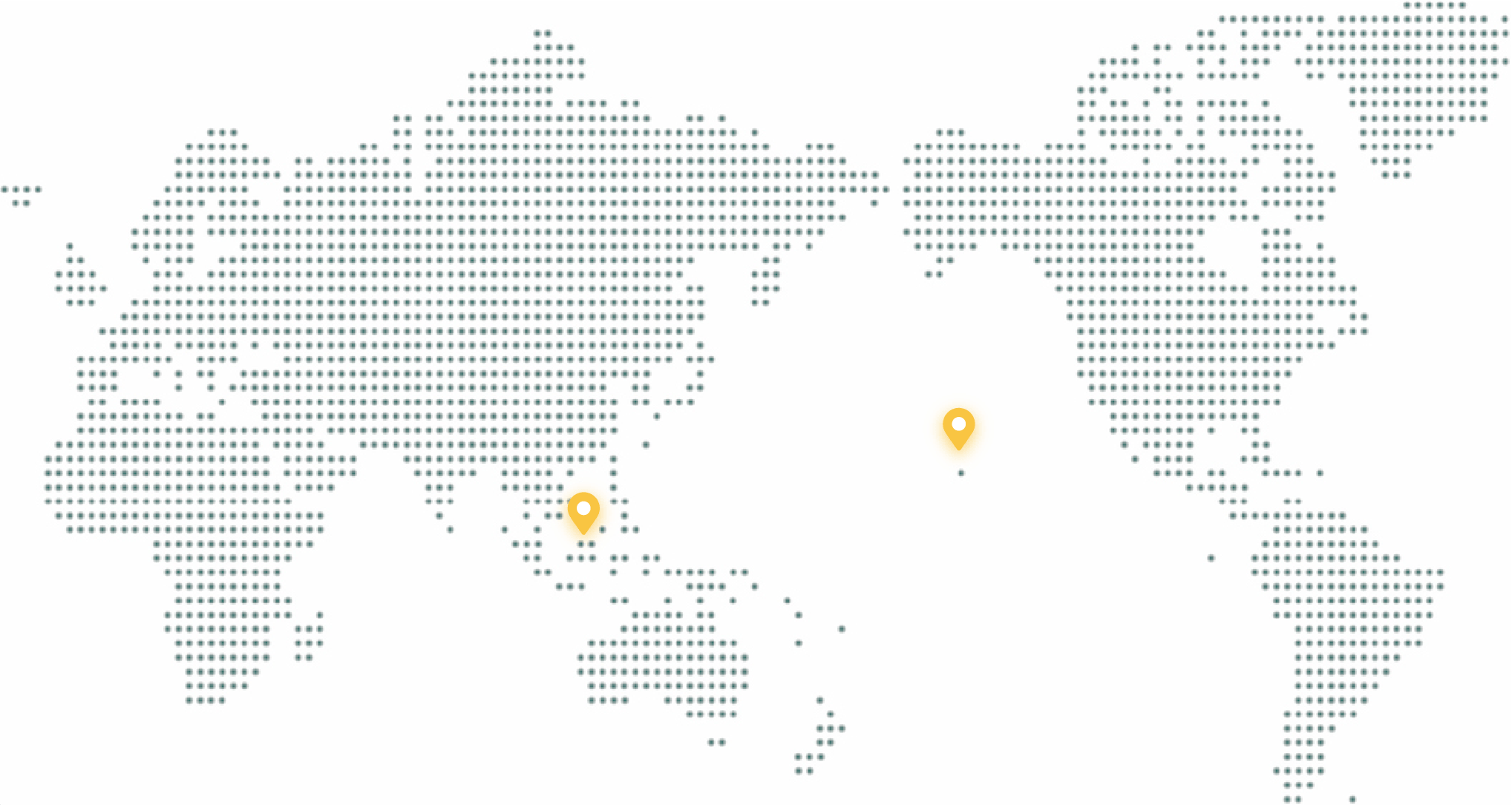 Case Studies
Captive Set-up | Consumer electronics retailers

Problem As part of customer services, the retailer offers extended warranties for products sold to customers. While the retailer has been setting aside reserves to prepare for payment obligations under extended warranties, its financial burdens become heavier with growing sales. Due to a long history of providing extended warranties at its own risk, the retailer hesitates to pay for insurance to cover extended warranties because they can accurately estimate amounts of warranty expenses.

Our Solution Rather than setting aside reserves, taking out insurance to cover extended warranties is more advisable. While this solution requires paying insurance premiums, reinsuring a part of the insurance contract through use of a captive allows the merchandiser to pool funds in the captive. When designing a captive scheme, we aim for high-performing investment for a captive fund by fully capitalizing on our past success.

Captive Set-up | Medium-sized Logistics Company

Problem The client understood the necessity for earthquake insurance and received quotations. However, the client decided against the purchase of earthquake insurance because the price was too high.

Our Solution We recommended a review of existing insurance arrangements and cede possible insurance polices to a captive. The review led to a rearrangement of existing insurance and a new arrangement for earthquake insurance while structuring a mechanism to retain loss free insurance premiums to a captive. Our recommendation streamlined the retrocession arrangements for the captive to maximize the profitability while increasing the coverage by providing earthquake insurance.
Captive Set-up Process
Identifying the purpose of setting up a captive

We identify the reasons behind setting up a captive as this allows us to consider how the scheme of the captive should be structured. Depending on your reason for setting up a captive, a non-captive scheme may be more recommendable. In this case, we will further examine the purpose of setting up a captive.

Identifying Risks

We check the risks and existing insurance contracts that are intended to manage through your captive, and then we review existing insurance coverages. Our review is to clarify whether or not the insurance companies acting as primary insurers will accept your captive as a reinsurer.

Actual Set-up

After your in-house final approval for setting a captive, we start preparations for documents to be submitted to the regulator and commence the procedure for opening a bank account (all documents need to be translated into English). After submitting the required documents, it usually takes three to six months to obtain regulatory approval for setting it up. Then, the amount of stated capital should be transferred to the bank account opened.

Operation of the mutual aid association

The operation of the publicly licensed cooperative starts after it is licensed by the competent authority. For the case of exempt kyosai, it starts after the conclusion of its organizational meeting, as the case may be. We provide full-range services to support your operation.